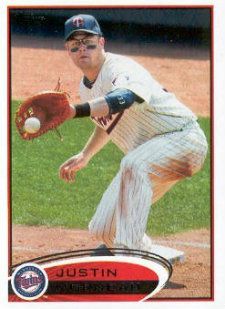 Justin Morneau's career seemed like it was on the fast track to the baseball Hall of Fame. For several seasons he hit 20+ homeruns and had over 100 RBIs while batting in the .300s. He also seem to stay relatively healthy often plane over 140 games during that stretch. However injuries and other problems have led Morneau's career to fall off the last few years. It seems like his power numbers have gone down, he isn't hitting for average, and he's striking out quite a bit.
It just goes to show you how careful you have to be about when you buy a player over the course of his career. You could've bought Justin Morneau's cards between 2005 and 2009 and you would've paid quite a bit of money for them. His fans that might have waited or even sold during that period of time are now able to buy cards much cheaper, including the card pictured here #230
from 2012 Topps series 1 baseball
. Minnesota Twins fans are probably doubting Morneau will ever get back to his All-Star/MVP caliber of play, and many collectors are probably feeling the same way.
He is 31 years old, which means time is not on his side, but if he can stay healthy ... he might be able to put together a decent season. Young collectors might not remember that Morneau was one of the hottest cards in the hobby for a few seasons - which is why it's good they put a guys full stats on the back of some baseball cards these days.