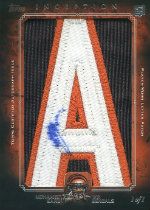 My early love for this player must be apparent by now, as this is the third article I've written on this blog about him since he was drafted. I've bid on a few of his cards already, but actually haven't won one yet. I may end up working out trades on the forums for one if I don't have any luck winning one.
Some people don't really like letter patch cards, and given how hard they must be to sign, I don't know why they don't just have the guy sign the back of the card. Not that Sanu's autograph is anything special, but we've been over that before here.
Behold a super nice "1/1" Mohamed Sanu from 2012 Topps Inception Football! I put the 1/1 in quotes because each letter is a 1/1, so if it's only for a guys last name - it's really 1/4 ... but either way, still a nice card. I may be a buyer on one of these if they stay south of $20 - but given how fresh the product is, I don't expect to land one for that price anytime soon.