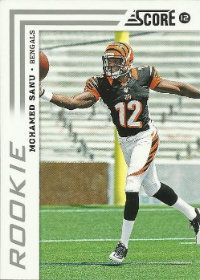 Given that I'm still trying to win my first Mohamed Sanu rookie card (despite bidding on about 15 different auctions) ... I figured I'd better add another card to my early pre-season wish list.
2012 Score Football is
a really cool set
because packs only cost $1 - and you can get some good cards in the packs. The parallel cards, and even autograph cards are always really collectible, because they are pretty tough to get. It's certainly nice to see that they added serial numbers to some of the parallel set - after a year off in 2011. They even have 1/1 printing plates.
Another set that looks like it's tough to find are the
photo variation rookies
. As of writing this, I hadn't seen Andrew Luck or Trent Richardson, and I only saw one Robert Griffin III. Luckily for me, I did catch a look at the Mohamed Sanu variation. I'm probably going to wait another week or two before I bid on these cards because I don't know how rare they are yet. That might not be a good strategy if they turn out to be extremely rare ... but I don't think they will be SSSSSP if you know what I mean.
With 2012 Donruss Elite Football coming next week, I might be able to make my move on the Prestige and Inception cards I've had my eye on for a few weeks.