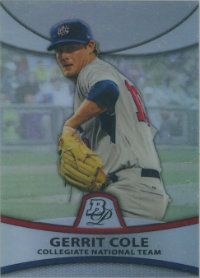 When you get these team USA cards in packs these days, you almost never know who the players are or if they'll ever pan out to be major league players. In fact, when I picked up this card out of the stack that I had laying around, I really wasn't too familiar with Gerrit Cole. Turns out ... he was the #1 pick in all of major league baseball in 2011 by the Pittsburgh Pirates ... and I kind of felt like I had been living under a rock! On the back of this card it says Cole was a former Yankees first-round pick and pitched very well during the College World Series & during his team USA performance.
Apparently things haven't been going as well lately for Cole, as he was hit in the face by a line drive while he was pitching in the minors about 2 weeks ago. It looks like everything should be okay for him but sometimes those kind of things can haunt a picture for longer than a few games. He's having a pretty good season statistically this year and he's even been promoted once in the minors. While I'm sure some of the
USA cards from the 2010 Bowman Platinum Baseball
haven't panned out very well, I have high hopes for this Gerrit Cole USA card.