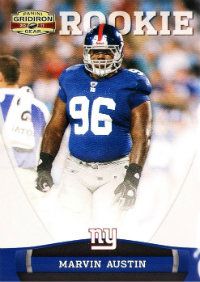 The New York Giants won the Super Bowl in 2011 in large part because of the play of QB Eli Manning and their defense. One of the guys that they drafted that season in round #2 was Marvin Austin from North Carolina. He's a 6 foot 3" - 310 pound defensive tackle, that ended up tearing his pectoral muscle early in the preseason. He ended up missing the entire 2011 season for the Giants, so you can expect he will be a nice added addition to a team that's already coming off a Super Bowl win.
Last year's Gridiron Gear football is a set I actually didn't really like that much. I thought the rookie Gridiron Gems Rookie cards looked almost like insert cards, and not like a true rookie would. This Marvin Austin card has ROOKIE displayed right across the top and it's exactly what I would expect over the card to look like. I think they could have done this set design for all the top rookies, and just had sticker autographs on these, and it would've been nicer than the cards that are found in the set. Although boxes and cards sell for quite a bit of money because the rookie class was so good last season so it almost doesn't matter what the cards look like. One thing is for sure, if Marvin Austin can stay healthy in 2012 and make an impact on the NY Giants - collectors will be going back
to this set
to hunt down his rookies they overlooked last season.