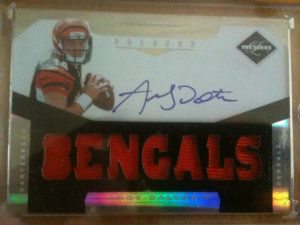 Being a Cincinnati Bengals fan for over 15 years, I've seen plenty of quarter backs come and go. I remember buying Akili Smith rookies in 1999 ... he was the only QB other than Jon Kitna that I even remember besides Boomer Esiason. I've had a Ki-Jana Carter collection, Chad Johnson and a couple of other players over the years. I couldn't really afford Carson Palmer rookies at the time, and maybe that was for the better because he got upset about something and basically forced the Bengals to trade him in 2011.
All for the better.
People who know me know that I don't watch college football ... not that I don't like it - just too many other sports to follow. So when the Bengals drafted A.J. Green and Andy Dalton in 2011 - I knew nothing about either player. When I read on Bengals.com the coaches were saying "Dalton was the guy we wanted" I thought they were just saying that because that is who they ended up with.
After the 1st preseason game I was a fan.
I remember seeing Andy Dalton play for the first time. It didn't go well. In fact ... the entire pre-season looked pretty bad for the Bengals, but the one thing that Andy Dalton does better than almost any QB I've seen is
he gets the ball out of his hands very quickly
. With a lockout shortened off-season and a rookie QB thrown into the fire of starting ... you'd expect Andy to hold onto the ball and take sacks. While, he's not perfect, I love how this guy plays.
Aside from that, I love the interviews I've seen with him on the Bengals official website + he had a recent interview on Panini's website. He revealed that a distant family member gets online and bids on his cards, which might explain why I can never get one for a 'really good price' on eBay!! I ended up picking up this card at a card show for $50 in March from the
2011 Panini Limited Football
set. I actually really like these cards - the autograph is on-card and the design of the card is cool because it says Bengals.
I never started a Carson Palmer collection, but I like Andy so much, this is probably just the first of many cards I'll get from him over the years.