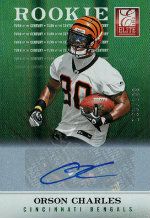 Reggie Kelly is a little known name in the NFL, but he solidified the Bengals TE position for many years. Kelly was a great leader, a great blocker and a great teammate. The only knock on Reggie Kelly during his time with the Bengals was that he didn't add much to the passing game.
In 2010 the Bengals looked to address this when they drafted Jermaine Gresham in the 1st round. It looks like Gresham will be a really good player for us - and he even made the Pro-Bowl in 2011. Some Bengals fans were kind of surprised when the team drafted Orson Charles in the 4th round of the 2012 NFL draft - but it may be that the Bengals were drafting the best player available at that time.
Another reason might be that the tight-end position has really become a weapon that teams use. New England, San Francisco and New Orleans TE's are some of the biggest playmakers on offense - and it's possible the Bengals want to go that route with their offense. Having 2 TE's that can catch and make plays makes it tough for opposing defenses to guard ... at least that's what I hope will happen.
Since a new football sets comes out virtually every week ++ I can't seem to win a Mohamed Sanu card on eBay for a low enough price, I might have to start dipping into Orson Charles autograph rookie cards. This card comes from the recently release 2012 Donruss Elite Football, and I kind of like the look, although the cards do look similar to the 2011 release. Maybe Panini thought they wouldn't mess with a good thing - and with
a large checklist of rookies
that signed for the set, I think this will be a good card to land cheap because there are so many signatures to collect.
With the NFL training camps opening this week - it's that time of year, and hopefully Orson Charles can help the Bengals win some games this year.