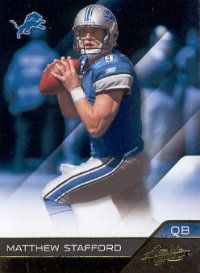 Matthew Stafford is a great example of a guy that you have to wait on to really see what you have as an NFL team or as a collector. Being the #1 overall pick will always lead to his cards being collected during his first few seasons, but after that you need to start producing (ie: JaMarcus Russell).
Stafford had some injury problems, and he was often getting sacked - but still showed why the Lions drafted him number one. During the 2011 season, it all seemed to come together for Stafford and the Lions - especially his connection with WR Calvin Johnson.
The card shown here is a retail version of his
Absolute Memorabilia from 2011
. You can tell the difference between the retail & the hobby versions is that the hobby versions have a 'refractor' like sheen over the front - and the retail versions appear to be much cheaper stock & don't have the shine the hobby cards do. I got this pack at a 99-Cent store, and didn't get much, but I have gotten a serial numbered rookie in the past.