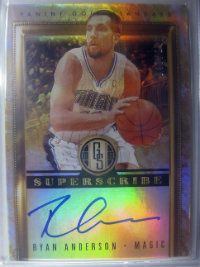 Growing up in the 1980's, and my parents having just relocated from Southern California ... it was only natural that a young boy became a big fan of the Los Angeles Lakers. As time has gone on ... I've seen the Lakers win so many times I can't remember how many championships and finals appearances it has been. To say I've lost interest in the team is probably a stretch, however with the advent of fantasy basketball - I've certainly been watching other NBA teams more than the Lakers recently.
One player/team I've followed the last 2 season have been the Orlando Magic. I play in a fantasy basketball league where 3-Pointers are worth essentially 5 points ... so having players that can nail one from deep is key. Orlando has many players (the last 2 seasons that have hit the 3-point shot well).
Rewind to January 2011 and I was looking for a center I could plug into my starting lineup. I didn't have many options except Ryan Anderson - who was coming off the bench at the time. He defense was suspect, but he hit 3's at a very high rate.
A few months later I win a fantasy title - and the next year I do it again with Ryan Anderson in my starting lineup almost the entire year. His breakout season in 2011-12 had me thinking he was going to be the center piece of the Orlando Magic team with/or without Dwight Howard.
Wrong!!
Given that Ryan Anderson was recently traded to the New Orleans Hornets, this
2011/12 Gold Standard Basketball
card that just dropped with him in an Orlando Magic uniform might seem kind of silly now - but the on-card autograph is pretty sweet. Plus, if you want to collect Ryan Anderson rookie cards, they have him in a New Jersey Nets uniform, so Anderson fans might be used to the jersey change.
Casual fans of the NBA might not realize how good Ryan Anderson really is - but fantasy NBA players are well aware that this guy is one of the best centers to own in all of the NBA. With the lack of 'true big-men' ... outside Andrew Bynum, Howard, Roy Hibbert, Greg Monroe and a few others - Ryan Anderson's perimeter game is where the NBA game is going. Also the deal that sent Ryan Anderson to the Hornets involved a player most NBA fans haven't heard of - however the Magic risked loosing Anderson for nothing, so getting a player for him was the best they could do.
I bid on the card you see pictured here, and I'll probably be going to find a few of his original rookie autographs to bid on as well. I think this guy has a nice future in the NBA as a 14.0 - 18.0 point-per-game scorer.