See Part 1 Of March Madness Trading Card Releases
2009/10 Panini Classics Basketball
(March 31, 2010)
This is possibly one of the final products that won't deliver a 'hit-per-pack' like the remaining products in the pipeline do for Panini. The on-card Autograph Rookies might be some of the best looking of the season - making this a set you might want to check out once it goes live at the end of the week. The use of former NBA players makes this a hit with older collectors, and the Rookies, Kobe, and current NBA stars makes this an all-around solid product from Panini.
09/10 Panini Classics Basketball Checklist & Review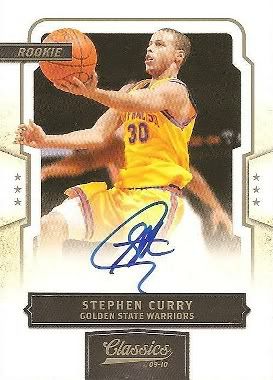 2010 Razor Legends of the Diamond Baseball
(March 31, 2010)
This is a unique product which is basically a re-packaged vintage card collection. Although, every card is guaranteed to be PSA 7 or PSA/DNA Autograph of a pre 1970's Hall of Famer or famous baseball player. Check out our preview where we run down Atlanta Sports Cards 20 Box Break.
Also out at the end of the month:
2010 SAGE High Series Football! (March 31, 2010)