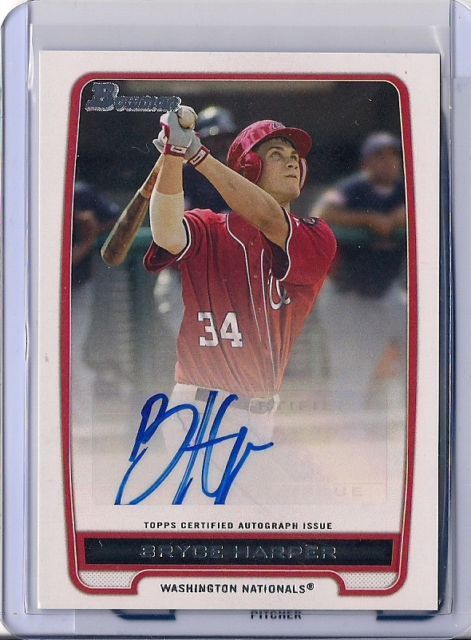 When you're as good as Bryce Harper has been during all stages of his young baseball career,
you have cards going back several years
before you even reach the majors. In fact, Bryce Harper was features in many 2011 Bowman & Topps sets - and he is again in 2012.
Not that anyone is complaining, his play on the field and the fact that the young Nationals team are exciting to watch mean almost all of his cards have value. The one thing about the 2012 Bryce Harper auto's is that some of them are cut off at the top/bottom like this one from
2012 Bowman Baseball
. Maybe Topps ran out of 'good' stickers last year, or possibly Bryce just has a tall signature that cannot be constrained by the stickers. Either way, the fickle collector will certainly shy away from the copies that don't have a pristine signature. Now that it appears Bryce Harper is probably done playing minor league baseball, maybe Topps will print up a bunch of his cards so collectors can have him on-card for some sets later in the year. One thing is for certain, expect to see Bryce Harper headline many sets for many years to come.