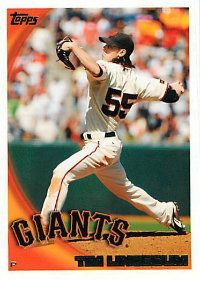 "Big Time Timmy Jim" is what they called him after most of his starts early in his career. Most cards these days don't have stats on the back, but this card has the traditional stat run many of us are used to. Growing up, this was how you got to look at a guys stats - there was no Yahoo or ESPN on the internet.
Tim Lincecum's 2010 Topps card even has his 2006-07 campaign in the minor leagues. I remember hearing about him then, and how he was dominating the competition. The stats reveal that he only gave up 7 earned runs in a shade over 62 innings during those years!! In 5 games at Triple AAA Fresno, he only gave up 1 earned run and went 4-0.
I also remember seeing Lincecum's first couple of starts. I believe they came in a time where Barry Bonds was the only other reason to watch the Giants, and even then his elbow and other injuries had wore him down a bit. Tim was a breath of fresh air. I remember the TV coverage panning over to the opposing teams dugout to the player that just struck out who was describing Tim's fastball action to teammates like he'd never seen something like that before.
So the fact that Lincecum has been struggling in 2012,
and some collectors are even selling off his
cards despite winning Cy-Young Awards and a World Series Championship in 2010 - has me wondering when will Tim be "Big Time Timmy Jim" again?